This is my 3rd attempt at Mt. Aconcagua

Epic Bill Bradley Statistics
Made it to 600ft of the top
Got choked out due to lack of oxygen and couldn't summit
Never Quit…"Show Up and Suffer!"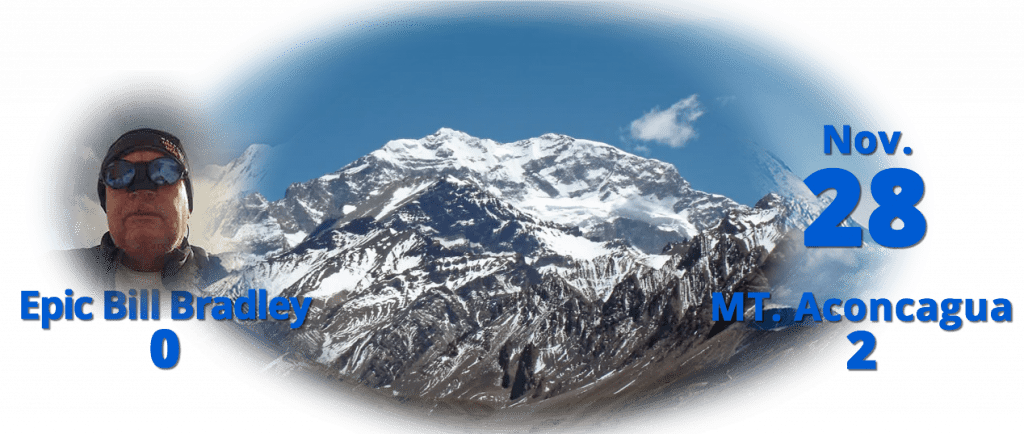 Located in Argentina…know as the Roof of the Americas

Highest peak in the Western/Southern Hemisphere 22,800 ft.

Aconcagua is one of the Seven Summits

It is second in height after Mount Everest. 

The altitude on Aconcagua is so extreme that a number of hikers have died from altitude sickness while trying to reach the summit.
Our 2nd Consecutive Short Documentary "Climbing Into Fear" at this years Oscar Qualifying entry into this years 18th Annual HollyShorts Film Festival
Riding the success of 2021s critical acclaimed short documentary film "PushingMercury " the  latest documentary short from
Epic Bill Bradley, "Climbing Into Fear," hits the screen this August 11-20 at the 18th Annual Hollyshorts Film Festival 2022.
Arrowhead 135, 11th attempt, Jan 2023
3rd attempt Solo Self-Contained Badwater, Aug. 2023
Pushing Mercury II, 2021 - My 2th Attempt: "Did a lot better the last year"

SOLO-BADWATER 146 turned into a assisted BADWATER 135
Even though I went further then last years attempt, making it to Furnace Creek 17.5 miles. I had to end my Solo-Badwater 146 due to the extreme heat with temperatures exceeding 120° in the shade. I was just unable to lower my body temperature. After recovering the next morning I decided to attempt a Assisted Badwater 135. Which I hadn't done in over 4 years. Woo Hoo!!
MT. Denali 2021 - My 5th Attempt: "So, So Close"
Pushing Mercury, 2020 - My 1st Attempt: One of the Hottest Days in History
"Pushing Mercury" was accepted in (2) Academy Award Oscar-Qualifying Film Festivals in 2021
Academy Award Oscar-Qualifying Film Festivals are devoted to showcasing the best and brightest short films from around the globe, advancing the careers of filmmakers through screenings, networking events, and various panel and forums. Semi-Finalist in Flickers' Rhode Island International Film Festival and we were top 20 at the HollyShorts Film Festival which both showcases the top short films produced 40- minutes or less. Categories include Short Animation, Short Live Action, Short Documentary, Music Video, Webisode, Commercials, Youth Film and Digital Microbudget. 
MT. Denali 2018 - My 4th Attempt: "Never Quit Attitude"

Our team's goal would be for me to cross the Grand Canyon Rim 7 times continuously and set a new world record.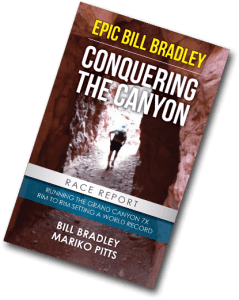 Arguably one of the most inspiring versatile extreme endurance athletes in our time, Bill Bradley undertakes the most challenging endurance sporting events in the world. He craves improbable challenges set against nature's unforgiving scenarios. The average age of an extreme endurance athlete is 35 years old. Bradley, now 61, stands alone yet he continues to take on grueling events around the world and continues to amaze his fans with many completions. 
STAY FIT ODAAT Podcast interview with Bill
We are actively looking for Sponsorship for our many upcoming event schedule in 2022-20023. In our last event "MT Denali 2018", we garnered over 1.2 million views on (2) of the (6) videos documenting the climb, with a watch time of over 3 minutes per/view on our YouTube channel.

An amazing man​
I met Bill today in Salisbury, England at a train station waiting to go home on leave from the army. We ended up speaking to the very point we had to go our separate ways. He is a great guy and unique. The stories he told me had me in awe and left me amazed. Bill you are a fantastic character and it was a pleasure to have met you. Hopefully our paths cross again some day.
Epic Bill...true to his nickname
I too am an endurance athlete but a thimble size fraction ...of your epic performances!!! Love the motivation that you produce for me and countless others
Thank-you!
That was a lot of fun Bill! You are one tough cookie!
Amazing Bill
Amazing! I had no idea!!
Absolutely Impressed
Even though I have heard about these epic events (ordeals) before, I was totally into your talk. So was everyone else!!! Super impressive!! The talk elevated the already epicness even more...!!!!